Author/Writer
Barbara is the author of Scripture & Meditations for the Rosary, co-author of Opening Hearts: A Cardiovascular Surgeon Reflects on Faith, Healing, Live & the Meaning of Life, and a contributor to the anthology, Three Minus One: Parent's Stories of Love & Loss (all available on Amazon.com).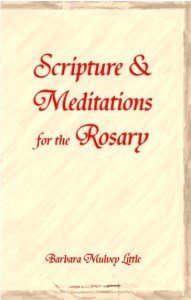 What is the Rosary? Why do people say it? Does such an ancient prayer form matter at all in the 21st century?
Prayer and meditation lead us to the actions and attitudes that will create the peace our world so desperately needs. Praying and meditating on the mysteries of the Rosary is the perfect combination of silence and faith which, according to Mother Teresa, produces a life of love, service, and peace. For as Mother Teresa said, "The fruit of silence is prayer. The fruit of prayer is faith. The fruit of faith is love. The fruit of love is service. The fruit of service is peace."
This book is for anyone who is interested in, or perhaps unfamiliar with, the Rosary. It is for Catholics who do not remember—or never learned—how to say the Rosary, for new Catholics in RCIA programs, and for people from other faith traditions (or no tradition at all) who desire the spiritual gifts that meditation and prayer with the Rosary offers.
For each "mystery" in the lives of Jesus and Mary of Nazareth there are meditations and scriptural references to help you experience spirituality in all its earthy humanity and numinous divinity. After reading each scriptural reference, you may contemplate your spiritual life through your own meditations or use the meditations provided.
If you desire to create peace by experiencing the fruits of prayer, faith, love, and service then the Rosary—and this book—are for you.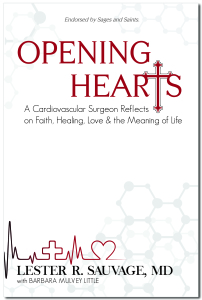 Opening Hearts was a collaboration between me and an amazing cardiovascular surgeon, researcher, and man of faith.
Why do you want to live longer?" Lester R. Sauvage, MD, asked patients before their life-saving surgery, knowing that the answer would aid their healing by bringing to their consciousness a motivation to live.
In Opening Hearts, Dr. Sauvage poses that same question and more for all of us: What is the purpose of my life? How can I live a life of meaning? What is happiness and how do I find it? What do my actions reveal about who or what I love? Why does it matter?
He then guides us with his unique and very spiritual "heart wisdom" to find our answers.
He shares how the human body and the universe provide evidence for God. He reveals how spiritual awareness and life choices relate to healing, health, and happiness. And finally, he provides practical information to nurture the body, mind, and spirit. His goal: to help you create a life full of love and purpose.
During his career, this Renaissance-style philosopher-surgeon-scientist performed 10,000+ surgeries, many miraculous. His research lab abounded with life-saving medical devices and advances. Yet he'll tell you his most important discovery was recognizing that love is the ultimate medicine that heals our body, mind, and spirit.
This book is part faith, part science, part health, and part autobiography describing an amazing life. It will inspire and challenge you to live in a more conscious, loving, and heart-centered way.
I am proud to have been part of the writing, editing, organizing, and production of this book. Get your copy on Amazon.com or through other major online retailers. Owners of the print book can get a free ebook at BitLit.com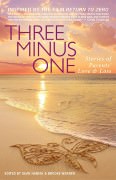 How do you survive the loss of a child? In this brave and touching anthology, dozens of writers share their stories of love and loss.
This collection of intimate, soul-baring stories, poems, and artwork was created by parents (and grandparents) who have experienced the devastation of miscarriage, still birth, or neonatal death. It is a book that will bring you to tears but it will also inspire you with its stories of love and courage as families rebuild lives of joy and meaning in spite of (and often through) their losses.
My essay, Trinity, touches on my experiences, relationships, and journey of faith related to the devastating diagnosis and the death of my infant granddaughter. Writing it was a healing experience and publishing it in this book was an honor.
Books are available on Amazon.com and on the website for the film which inspired the book, Return to Zero, written by Sean Hannish and starring Minnie Driver and Paul Adelstein.
Editor/Production Consultant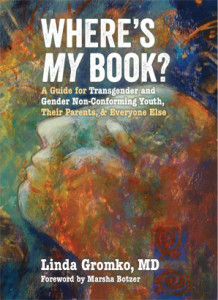 My editing client, Linda Gromko, MD, published this informative guide book for transgender and gender non-conforming youth in October 2015. It contains a wealth of valuable information for anyone who is, who loves, or who interacts with transgender youth or adults.
Linda deals with her topic with intelligence, compassion, respect, and reverence for the value of all people. She writes with unflinching honesty, straightforwardly addressing complex (and sometimes uncomfortable) issues of sexuality and person-hood. It is a must-read not only for transgender youth and adults but also for teachers, for those in the medical field, and for anyone who wants to better understand this complex topic.
Gromko is an engaging writer who provides well-researched information that includes graphic illustrations that make the information more understandable. Plus each chapter begins with a beautiful painting by award-winning artist Jacqui Beck, who is the mother of a transgender son. Some of the artwork comes from Jacqui's Gender Personal Project.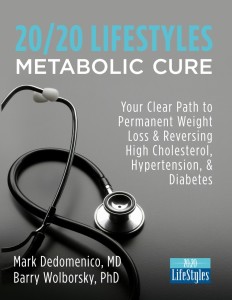 Editing and book production client, cardiovascular surgeon and business owner Mark Dedomenico, MD, published two books in 2015. For the first one, I was the book production coordinator researching and vetting vendors involved in production including editors, designers (cover and interior), and printers. I also shepherded the book through the myriad technical aspects of production, including organizing over 100 graphics and obtaining interior QR codes, ISBN numbers and exterior bar codes. The 20/20 Lifestyles Metabolic Cure is a book packed with information about nutrition, exercise, and a weight-loss program that has been proven successful over a twenty-year period. It is privately marketed to physicians only. For more information about 20/20 Lifestyles programs, see www.ProClub.com.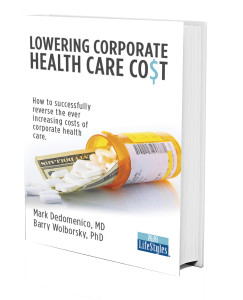 For Dr. Dedomenico's second book, I played a small part in copy editing Lowering Corporate Health Care Cost, which is directed to corporate executives concerned with the skyrocketing costs of employee health care. Since Dr. Dedomenico is not only a physician but also an experienced business owner who currently owns the largest privately held health club (which includes a medical clinic) in the country, he has unique wisdom to share. His business experience also includes running a training and rehabilitation center for thoroughbred race horses and taking over for his father in the family business, Golden Grain Macaroni Company (brands included Mission and Golden Grain pasta, Rice-a-Roni, Ghirardelli Chocolates and more) until it was sold to a major corporation.